Valentine'S Day With Fevicryl
Valentine'S Day With Fevicryl
Valentine's Day
14th February is marked on the calendar as 'St. Valentine's Day'. A day which celebrates romance and love! Expressing your love and affection for someone you love or someone who is closest to you; this is the day reserved for just those sentiments. Isn't it just a lovely feeling?
Well, this day is the RED day, virtually! The colour red epitomizes love and passion. People would either be in red outfits or give red roses to each other for sure; the gifts would be in fancy red wrappings and the whole aura around is that of bright and brilliant hues of red.
How about saying a Happy Valentine's day with Fevicryl this year! We have an array of Reds you can choose from - Crimson is a strong shade that inclines towards purple, a favourite for so many things we see on Valentine's Day, Coral Red is refreshing and feminine, a deep red colour, a beautiful colour that's versatile on numerous surfaces both fabric and non-fabric, Poppy Red, as the name suggests graces the poppy flower that we envisage in open fields being breezed gently, Pearl Metallic Red is what one's heart desires, having sheen and glitz cusped with red making it a colour that is simply stunning.
And just see how we have used these gorgeous colours in the following fun DIYs:
1. Heart Box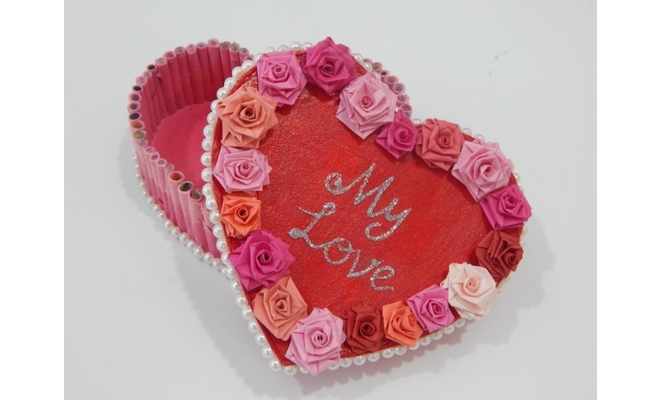 Pretty roses delicately handcrafted with quilling strips and a heart shaped fancy box made with newspaper rolls! Yes, it's that simple. Surprise your Valentine with your versatility and creativity. Don't forget write a special message on your cute little box.
2. Love Frame with Mosaic Hearts
This Valentine's Day, capture those moments that are priceless in this beautifully decorated LOVE frame. Decorate using cute little mosaic hearts made with Fevicryl Mouldit on your LOVE frame. Use colours that spell bloom, love and happiness, such as pinks, reds, crimsons and coral red, all which speak the language of LOVE !
3. String Art Heart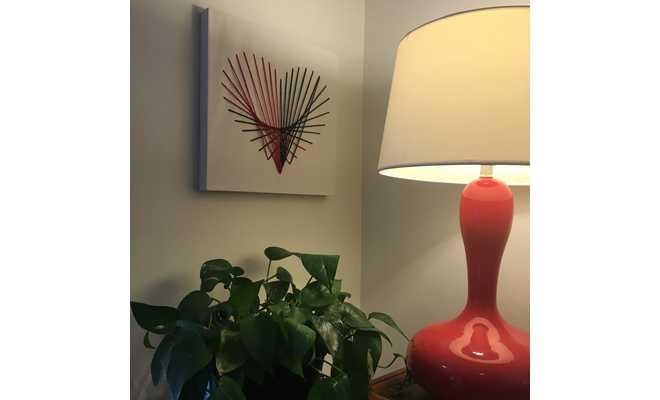 This is a beautiful art that looks chic and a perfect gift for your Valentinethis year. String art requires the most minimum of materials to get started and the results are so fantastic as you can see.A simple step-by-step method shown here how to make a Heart on a frame, and what you have is a fabulous piece of art ready for your walls.

4. Quilled Heart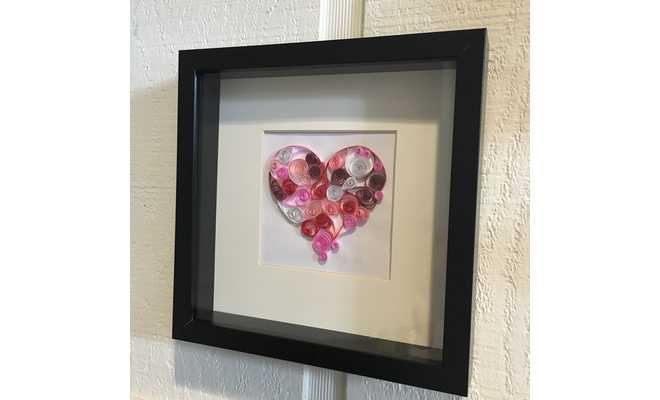 This Valentine's Day, make it simple yet heart felt with warmth and care! A simple frame with a quilled heart in center. It's the shades of strips that you use would make it so very pretty. There is nothing like receiving a gift that's handmade with thoughts and feelings. Make this Valentine's Day special by saying it with something customized.
5. I Love Us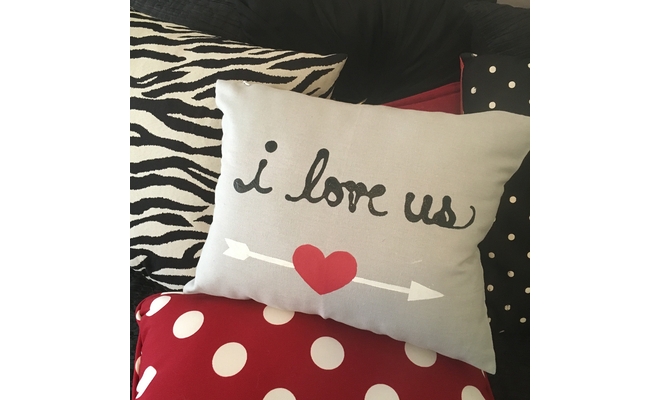 Something cosy and comforting, we all love it, don't we? This Valentine's Day a cute little pillow can convey your message of LOVE to that one person who means the world to you. Here is a cute DIY where you can do just that. Personalise it to your taste and it would go a long way.
6. Mixed Media Cupid Canvas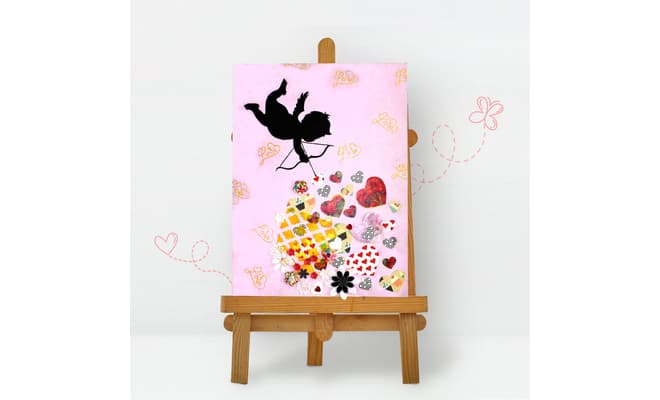 Seen here is Cupid the 'God of Love' doing what he does best shooting an arrow of hearts. Doesn't it tell you it is Valentine's Day already? Truly it does! A pretty and cute canvas is what we have made here with hearts that have been cut, and which have varied patterns on it, that's what's making the whole composition so unique.
7. Love Canvas with Mouldit Hearts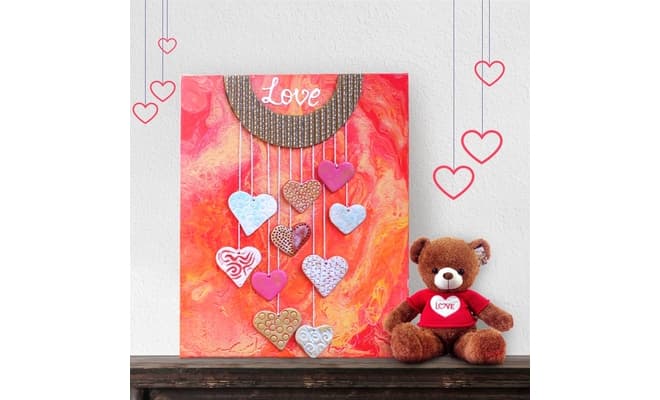 A beautiful backdrop on the canvas, of pouring art has highlighted the entire composition completely. Mouldit has helped us make perfect hearts that have been textured and painted in pinks and reds. Once seen dangling against the background, this makes for a lovely wall décor piece.
8. Canvas with Stencil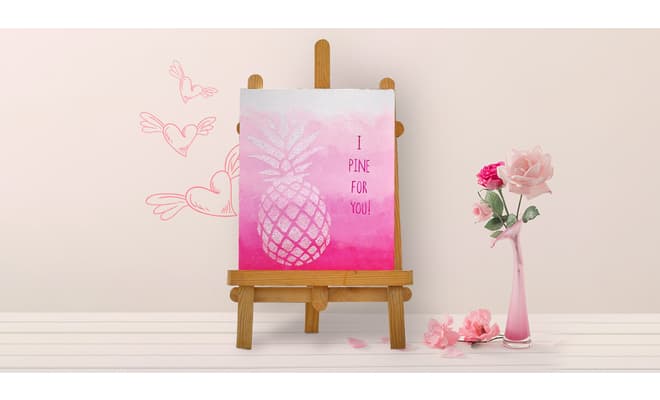 Expressions have a language of their own, and this canvas says it so beautifully "I Pine For You". Say it with art and painting this Valentine's Day. A pineapple stencil that's perfect to sponge dab with colours on a canvas and them paint down your expressions in words too. It sure would spell magic for you.
9. Canvas with Flamingo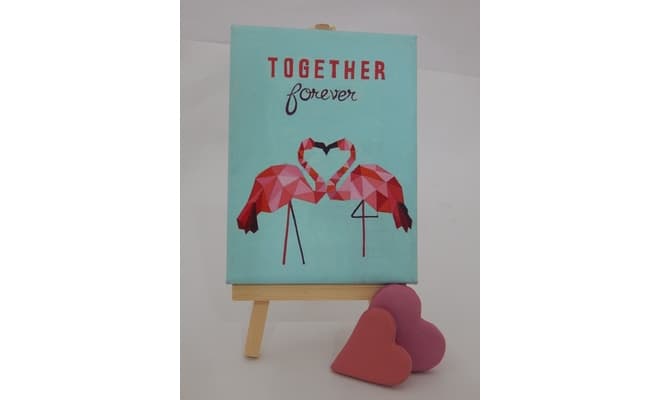 Flamingos are the symbol of LOVE here. A cute little canvas that you can simply make with our easy step-by-step method, will add that personalized touch and sentiment to your handmade Valentine's Day gift. Give your personal touch with a message painted in a fancy typography!