Minimalist Bottle Art
Minimalist Bottle Art
Simplicity is in fashion. Clean designs, simple motifs are the trend and we have tried to replicate the same on these lovely bottles. The design on each bottle is different but the theme is one, minimal. To begin painting on bottles we need to prepare the bottles carefully. Remove the label by soaking the bottles in a tub full of soapy water overnight and then scrub the label clean. Wipe dry the bottle with a cloth and voila the bottle is ready to be painted.
Fevicryl has some 3D paints called Fevicryl 3D outliners which are ideal for painting on surfaces like glass, wood, MDF, plastic, stone and more. They adhere to the surface and give a slight embossed effect to the lines.
Here are some minimalist bottles painted with Fevicryl 3D outliners:
The first one is a simple pattern made on a glass bottle. The repetitive zig zag pattern gives the design a psychedelic feel. Believe me the vertical lines in this bottle are straight. It is just the play of the eyes. The base is painted using Chrome Yellow and Sky Blue.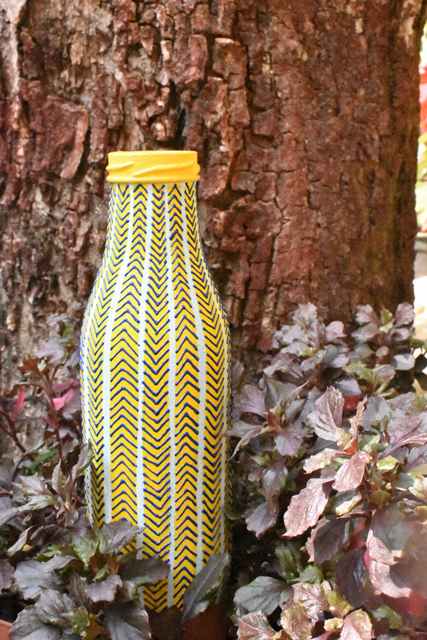 The second one has cute little playing card motifs painted on a miniature bottle. The pastel background is just apt for this cheerful cute little bottle. Make your children make one.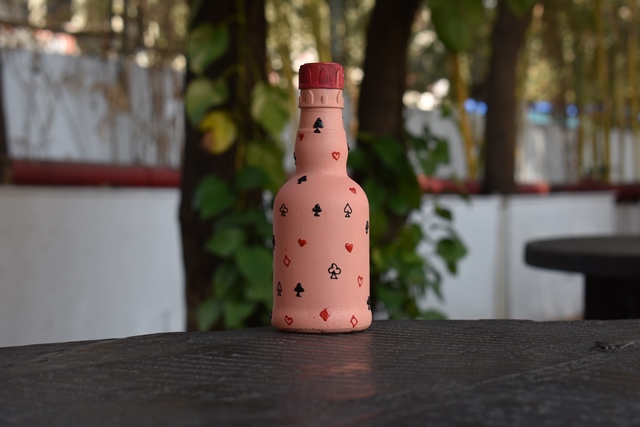 Another little one is like a scatter or blossoms in a meadow. The base is a cheery yellow and the flowers have been painted using Fevicryl 3D outline Red and White.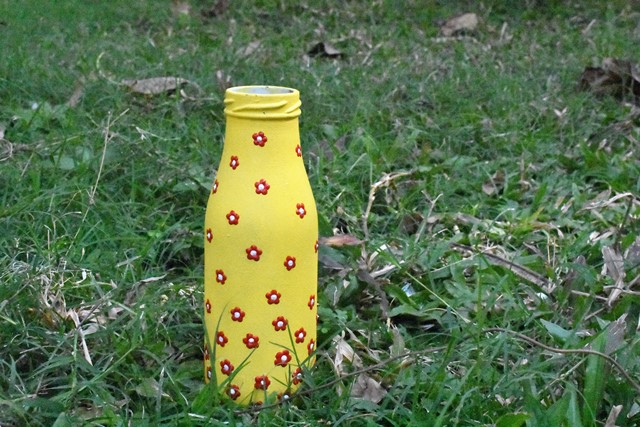 The last one of the lot has a lot of random mandalas painted on a plain green bottle and just these make this bottle look oh so lovely! Just one ingredient is required to make this Fevicryl 3D outliner White!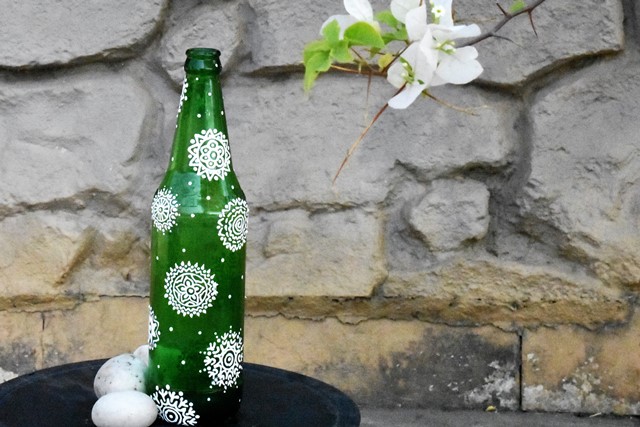 So next time don't let the time be an excuse to create some fab art! Simple is beautiful!