10 Easy Diy Projects With Glass Colours
10 Easy Diy Projects With Glass Colours
Easy DIY projects with Glass Colours
A little secret, once you start using glass colours for your art work you are smitten for life. The possibilities are endless! They give such cool finish that one cannot just try and not experiment with.
Here is a list of some of such cool DIYs for inspiration
1. Doodle Cat on Canvas
Doodling is so much fun; a true stress buster. What's more it all turns out so well and so different each time. Here is a canvas that we have doodled and painted using Fevicryl Glass Colours. This can be such a thoughtful and cool gift to give away to someone close. It can also be placed in your own home in your creative space.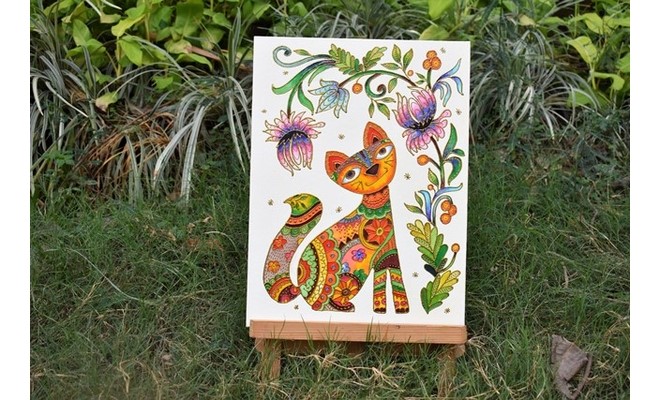 2. Kitchen Décor
Spruce up your kitchen with quirky frames like these, which have miniature ceramic spoons and pots. It's Mouldit that we have used to handcraft and mould these miniatures. To get that ceramic glaze, we have first painted them with acrylic colours, followed by glass colours. Prettily placed and stuck onto a frame,this makes the perfect wall accent for your kitchen space.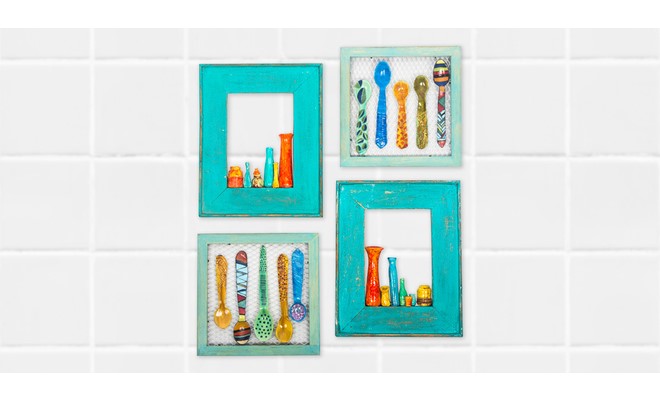 3. How to make decorative wall plates
Have you been fascinated by glass painting and wondered how to go about doing it? If yes, then this is for you. These are plain and basic aluminium plates which have been transformed into these pretty and attractive wall décor pieces. The design as you can see have that gleam and shine as they have been painted with Glass Colours. No one would ever guess how these have come about and that's the beauty of the technique used here.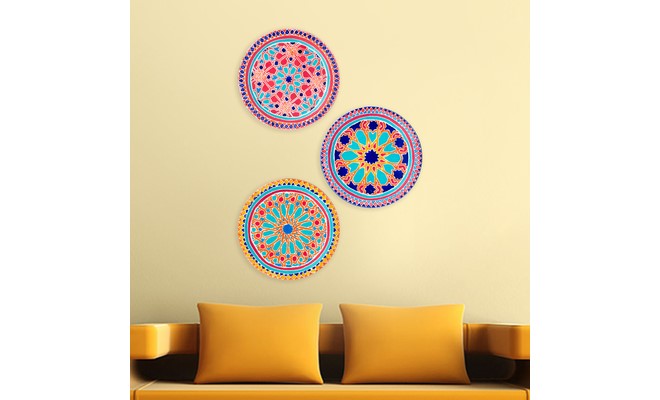 4. Birds of a feather Canvas
Make this pretty canvas using techniques that are simple to follow. There's glass colours and acrylic painting, all in all a pretty canvas that be adorned in your home space. Phrase it with a quote or simply like we have captioned it 'Birds of a feather'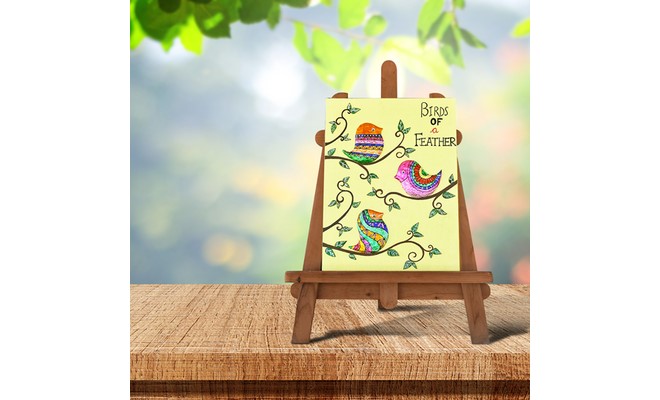 5. Box with Glass Colours
Jewellery is precious to us! So why not make our jewellery boxes special and precious too?
Here is a fun way of doing it with Glass Colours. Make simple geometrical patterns and fill them with colours and see them gleam!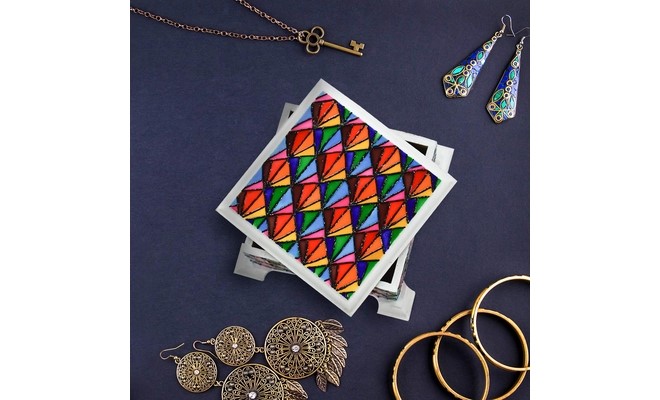 6. Bottles with Glass Colours
Just looking at them feels so good! Let me tell you making them is so much fun too. From beginning to the end result, it's a pleasure making these bottles which have been painted with Glass Colours. They make for a shelf décor in your study or your craft corner.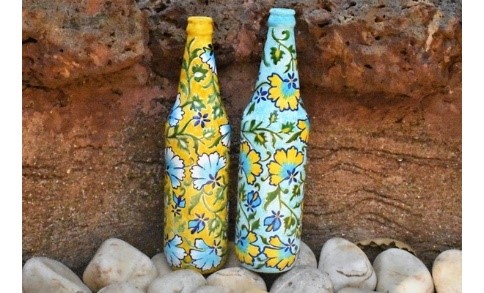 7. How to make OHP sheet rangoli designs
Made with such basic and few things, this simple DIY can be a fall back on for so many of our festivals. Each time make your own colour combinations and pattern schemes. How about making a set of these and gifting them to family and close friends as festivity gifts?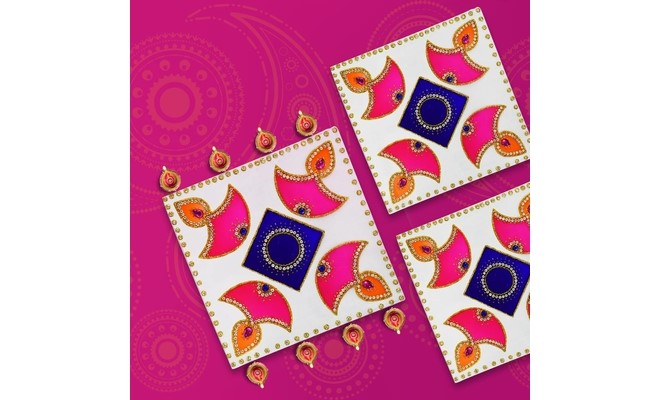 8. How to make bookmarks using Glass Colours
Bookworms or no! Bookmarks are lovely to make and so many variants are seen today. Sometimes simplicity goes a long way, like these bookmarks that can be themed for occasions or just hand painted with Glass Colours and given as a meaningful token of a 'thank you' or your care.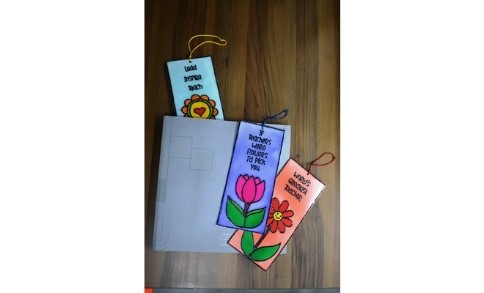 9. You are my Sunshine – Suncatchers
Some arts and crafts are just so therapeutic; this one for instance. The cutting and outlining and the filling of glass colours to make a sun-catcher, the whole craft experience is so satisfying. Have your own customised flowers if you want and choose colours that make you happy, but surely write "You are my sunshine" it's a glad feeling.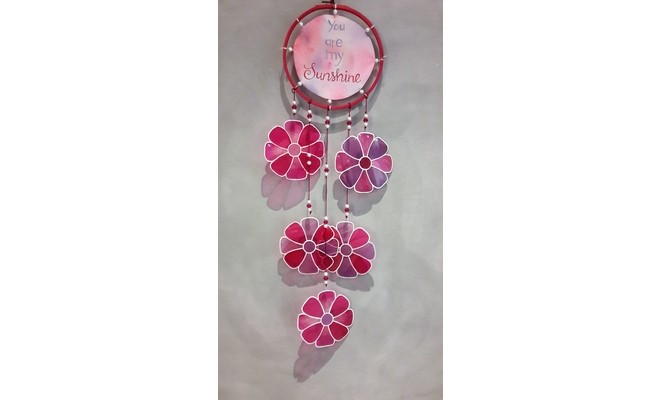 10. Tree of Life with Glass Colours
The magic to the eyes are colours here, Glass Colours that have done the magical work. A simple tree of life outlined and gradations of glass colour shades used to bring it to life, virtually. Here is a piece of art that one would definitely like to have as a home décor accent!